OD8300 Desktop Platform Barcode Reader
Decoding capability: Super decoding, endless fast
Auto-sensing: Megapixels, super large viewing angle
Sleep mode: Automatic sleep, mode adjustable barcode reader
Novel design: Traceless assembly, touch buttons
Desktop platform barcode scanner supports hands-free scanning with continuous reading capacity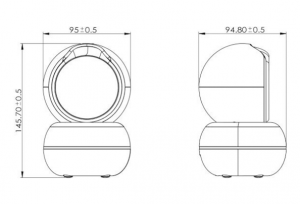 OD8300 Desktop Platform Barcode Reader has a hue angle of viewing for scanning 1d 2d bar codes, featured in the handsfree design, traceless assembly, and touch buttons, with extra-large reading area and flow scanning enable rapid and easy reading for barcodes and other sources, which can provide the applications of scanning goods commodity codes in stores or payment QR codes in supermarkets, etc.
Physical Characteristics
Dimensions
145.7mm x 95mm x 94.8mm
Voltage
5V
Stand-by Current
180mA
Interfaces Supported
USB
Weight
285g
Starting Current
330mA
Work Current
300mA
Prompting Mode
LED/Speaker
Performance Characteristics
Image (Pixels)
1280 pixels (H)x 1024 pixels (V)
Light Source
(Indicator) Green color LED; (Illumination) Red color LED
Field of View
54°(H) X53°(V)
Roll / Pitch / Yaw
360°, ±65° , ±65°
Print Contrast
20% minimum reflective difference
Motion Tolerances
4M/S
Resolution
≥ 3mil
Symbology Decode Capability
1-D
Codabar、Code 39、Code 32 Pharmaceutical (PARAF)、Interleaved 2 of 5、NEC 2 of 5、Code 93、Straight 2 of 5 Industrial、Straight 2 of 5 IATA,Matrix 2 of 5,Code 11、Code 128、GS1-128、UPC-A、UPC-E、EAN/JAN-8、EAN/JAN-13、MSI、GS1 DataBar Omnidirectional、GS1 DataBar Limited、GS1 DataBar

Expanded、China Post (Hong Kong 2 of 5)、Korea Post.

2-D
DOT Code, Codeblock A、Codeblock F、PDF417、Micro PDF417、GS1 Composite Codes、QR Code、Data Matrix、MaxiCode、Aztec、HANXIN.
User Environment
Operating Temperature
-20°C to 60°C
Storage Temperature
-30°C to 70°C
Humidity
5% to 95% relative humidity, non-condensing
Shock Specifications
Designed to withstand 1.5m (5') drops
Ambient Light Immunity
0-100,000 Lux.
Decode Ranges
Code39(4mil):2-8cm       Qrcode(15mil): 0-11cm      Code 128(13mil): 0-26cm
Code39(5mil): 0-12cm          QRcode(20mil):0-16cm       Code 128(20mil): 0-26cm
Code39(13mil): 0-25cm       QRcode(30mil):0-25cm       ENA-13(5mil): 1.5-9cm
Code39(20mil): 0-38cm       QRcode(3*3 ):0-16cm           ENA-13(13mil): 0-24cm
Ask us. We are here to help!
Regional Marketing Manager
North and South America & Asia Pacific
Regional Marketing Manager
Regional Marketing Manager
Regional Marketing Manager