Self-service kiosks are pc terminals that can provide consumers with details like inventory control, menu boards, queueing up, holiday plans, and more. Previous to the widespread acceptance of kiosk technology, budget businesses were forced to choose between a speedier checkout process and fewer staff. Then the desktop tablet stands with printers can provide outstanding products and solutions for improving and decluttering the point-of-sale (POS) system, which offers a fashionable and effective method for improving your brand recognition even while giving consumers a clean and attractive checkout experience.
Why do we need printer stand kiosk pos?
By presenting a list of ingredients, substitutions, and modifiers, self-service printer stand pos kiosks can reduce long waiting times, motivate guests during the ordering process, and encourage more intelligent choices.
Lower Waiting
A self-order kiosk is a time-saving solution that provides your customers control over the ordering and payment processes. Self-service kiosk terminals can reduce long waits in a similar way that additional counter workers do by holding lines moving and sending orders to a kitchen as soon as possible. Even though some people prefer to wait for a person, the majority of individuals even prefer this alternative self-ordering method.
Significantly Larger Ticket Size
Because kiosks upsell/cross-sell upon each display and every transaction doesn't require reminders or promotions, the average ticket size for orders made by kiosks is larger than those completed by staff members. Automatically generated prompting tends to encourage guests to try new add-on items they might not order otherwise.
Improved Order Customization
When guests start making complex and difficult requests, a worker might have to add several objects along with a lot of clicking between screens, which engages different errors. Nevertheless, self-order kiosks allow individuals to view the complete list of modifiers and make better decisions, making sure that it tastes perfect each time.
Enhanced Order Accuracy
Immediately transforming orders into a kiosk reduces mistakes that happen when transmitting written orders to the POS terminal, which takes a lot of time, money, and resources to correct. Alternatively, the order is transmitted from the customer to the kiosk and then to the kitchen. When accessing the order, there's little possibility of a mistake, and it eliminates the requirement to make kitchen staff fully comprehend one's chicken scratch.
Money Saved
Kiosks don't really replace workers, but they do enable the restaurant manager or owner to redistribute manual labor to other job systems such as prep, moving, or bussing. Orders may arrive quickly at kiosks, and people have to be present to handle the hurry.
How does a POS printer kiosk transform the point of sale business?
Employee Optimization
Kiosk innovation may be utilized to optimize labor by softening your employees' tasks rather than replacing them. Kiosks are incredibly beneficial during rush periods when your employees are overworked. Self-service kiosks can help us take customers ' orders on a busy day, enabling you to disburse workers to help understaffed positions. Of course, after the initial implementation, staff members should monitor the kiosks and assist customers with utilizing the equipment for the first time.
Reduce Errors
Even though kiosks follow orders from customers themselves, there's no worry about staff members misinterpreting, overlooking, or accessing inaccurate objects. Whenever a customer submits their order, it is instantly transmitted to the kitchen display device, eliminating the potential of messy handwriting or misplaced printing tickets. Orders can be presented on the adequate prep terminal monitor in advance to make sure and will be bumped once accomplished.
Boost Revenue
Consumers manage the ordering process and they can peruse the menu at their enjoyment with self-service kiosks. Kiosks significantly boost order quantity by 15-20% as a consequence of this and strategically placed successfully made prompts. Staff members could be flexible in their schedules or overlook the opportunity to upsell. A kiosk procedures order more rapidly and can up-sell across every transaction. Kiosks can provide customers with a sense of privacy and confidentiality, enabling them to place huge or unusual orders without having to worry about being judged.
Where can kiosks be used for?
Fast food and fast-casual eateries
Due to their capacity to upsell and cross-sell, self-service kiosks are growing increasingly fashionable in quick-service and fast-casual restaurants. The average purchase volume increases when consumers are motivated to add or upgrade items, permitting restaurants to maximize revenue. Kiosks also simplify the whole ordering, payment, and commercial kitchen process. Self-service orders are sent straightforwardly to a kitchen, with all consumer tastes included, so that employees can start work on orders immediately.
Supermarkets and convenience stores
Kiosks can improve consumer comfort in supermarkets and convenience stores in a wide range of ways, together with data lookup, self-checkout, and price inquests. Kiosks can also be installed on the selling floor and counter to assist consumers in discovering particular products and searching for information without contacting an employee.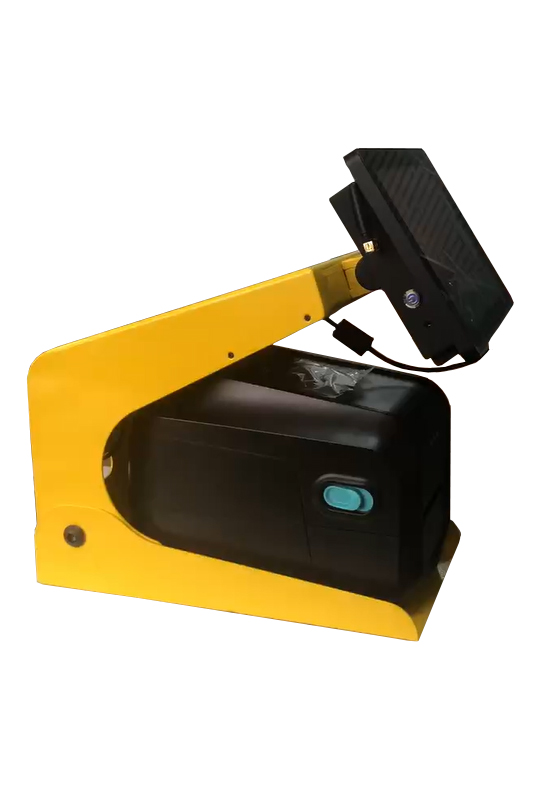 A majority of service-based industries can be covered with the printer stand pos kiosk terminal, and the two-in-one design can simply retail counter and speed up the checkout experience and transaction process with its cable-free management to maximize your counter space and keep the counter tidy.
And the printer stand kiosk can also be used for logistics and express industry for users to send courier and print shipping labels by themselves, to decrease the process of express self-delivery services and allow customers delivery with confidentiality of personal information.
The best kiosk terminal machine for your business is largely decided by your industry, environment, and business requirements. Figure out the number of terminals required, how they're going to be maintained, as well as what peripheral devices are needed.
Able to call us for details about the printer stand kiosk for retail point of sale and hospitality business.