According to these previous articles about printer stand pos terminals, we can benefit from using the printer stand POS for the cash register to accomplish efficient space management for valuable countertop space, keep the counter tidy with cable management, etc.
Meanwhile, it is extraordinarily vital for VMAX to show the new creative design of the countertop self-service kiosk, which is available to be placed on the cash register counter for both employees and customers.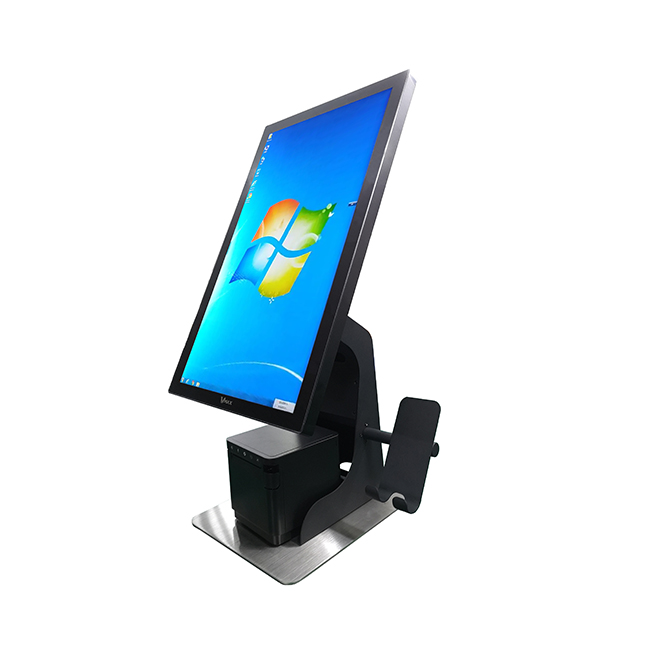 The self-service kiosk can be located on the countertop with the appropriate heights facing employees or customers. Its widescreen 21.5-inch can be displayed in portrait mode and landscape mode optional for actual application needs. And the self-service kiosk machine is equipped with a printer stand that is combined with a receipt printer to save limited counter space and convenient printing. Then the printer stand kiosk is also created in the additional bracket for the payment terminal.
The self-service printer stand kiosk can make the implementation of interactive elements in crowded environments more efficient, and VMAX will provide you with more details about the benefits of the self-service kiosk with the printer.
The printer stand kiosk has the following advantages:
The self-service kiosk is available to be placed on the countertop to face employees and customers, which has a specific printer stand that can be installed with a receipt printer to provide a convenient printing service for users and save valuable countertop space for shop layout management.
The countertop self-service kiosk has a wide-screen display that can be set on portrait mode and landscape mode displayed for business needs, to optimize customer experience in point of sale and self-service application environments including self-order, unending aisle, price verification, loyalty programs, brand experience, patient check-in, etc.
In addition, the printer stand kiosk has been designed with a lateral bracket for the payment terminal, making it convenient to accomplish efficient counter space management and complete payment transactions.
Any other functions can be customized with the printer stand kiosk, and you could contact VMAX for professional assistance.